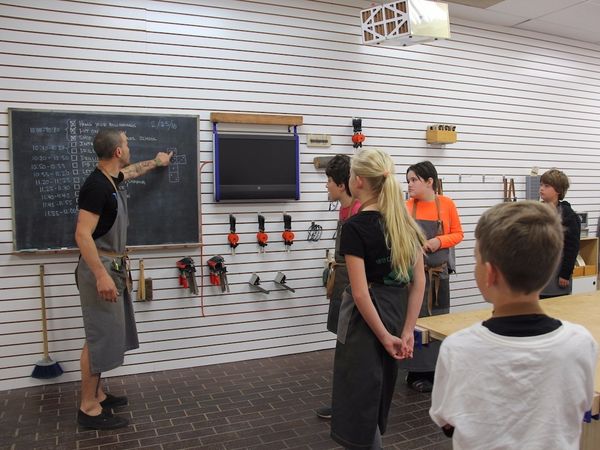 As a photographer for Outschool, I take photos, talk to parents, and listen to their stories about trying to give their children the best education they can.
Outschool essentially breaks education down into modules, offering a plethora of à la carte activities. So parents can curate their own curriculum for their child's unique learning style.
On any day of the week, you can find outschoolers exploring a wide range of hands-on activities that go far beyond the textbook. Here's an example itinerary:
10:00am — Woodworking at the Butterfly Joint
Mission District, San Francisco, CA | Craft, Art, Carpentry
Parents and their children gathered at the Butterfly Joint in San Francisco to make their own hand-made wooden play dice. The day began with safety lessons on how to properly ask for tools, hold tools, walk with tools, and use them efficiently.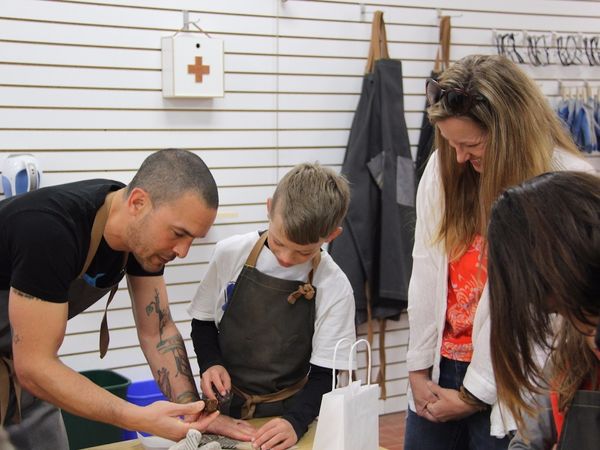 Lead by Danny Montoya, a credentialed early-childhood educator with more than a decade of experience in the classroom, The Butterfly Joint offers classes, workshops and activities that instill the importance of focus, problem-solving, resilience, determination and responsibility through the timeless art of woodworking. The goal was for the students to create and walk away with an heirloom—their own wooden dice they crafted themselves.
Unlike many other schooling situations, parents were able to join in on the activity, learn along with their children, and share the experience of creating the dice together.
As I moved around the room taking photos of the crafting process, I spoke with parents about what brought them there. I met Brittany from Oakland, who explained that her 9 year-old son learned much better from kinesthetic activities—situations where he didn't have to sit still in order to learn.
"He can't sit still. He does a lot better in activities like this—where he can move around a lot." - Brittany, Oakland, CA
Each child was given two pre-carved wooden dice. Their first task was to secure each die in a vice and use a hand drill to puncture the correct amount of holes into each side. The schedule was organized and timed well so that every child, regardless of age or experience, kept pace to make their own hand-carved wooden dice, from safely hand-drilling holes, to sanding, oiling, and waxing the finished product.
12:00pm — Mural Workshop at Precita Eyes
Mission District, San Francisco, CA | History, Art, Sociology
Later on I visited Precita Eyes, a non-profit offering education on the mural history of San Francisco, historic walking tours of the famous murals in the Mission District, and workshops on making murals.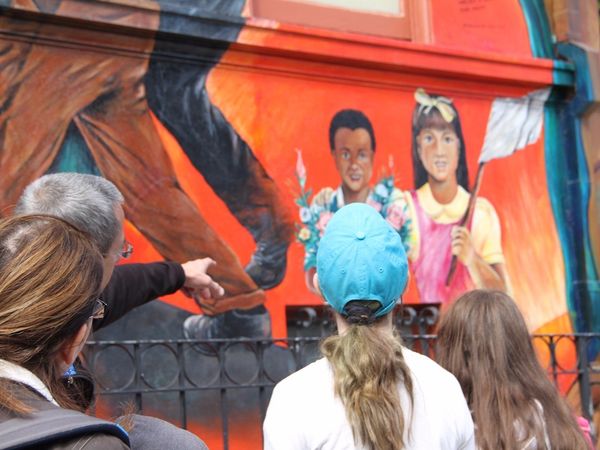 We toured many famous murals in the Mission, including the famous Balmy Alley, where our guide unpacked the symbolism of murals into compelling stories. We learned about the historic struggles of laborers and farmers, stories of displacement and colonization, and stories of local community heroes. With inspiration fresh in our memory, parents and children traveled to the Precita Eyes workshop to get started on their very own mural.
Together with the guidance of Sarah, a Precita Eyes muralist, we learned the process of mural-making is a group activity, one that places importance on the integral soft skills of group collaboration and organization.
Following Sara's lead, the parents and their children ideated, conceptualized, and sketched out the concept of their very own mural—one that told a story about the importance of education and the environment. Side by side, parents and children worked together to paint their own story.
2:00pm — Dissecting Anatomy with a UCSF Grad Student
SoMA, San Francisco, CA | Science, Anatomy, Biology
At the Outschool office, parents and children were greeted by Matt Donne, a graduate Student at UCSF Medical Center in the Developmental and Stem Cell Biology Program. With Matt's guidance, the children took turns assisting Matt in the dissection of a fetal pig, where he discussed the anatomy and organ systems, and shared knowledge about the regenerative potential of the body.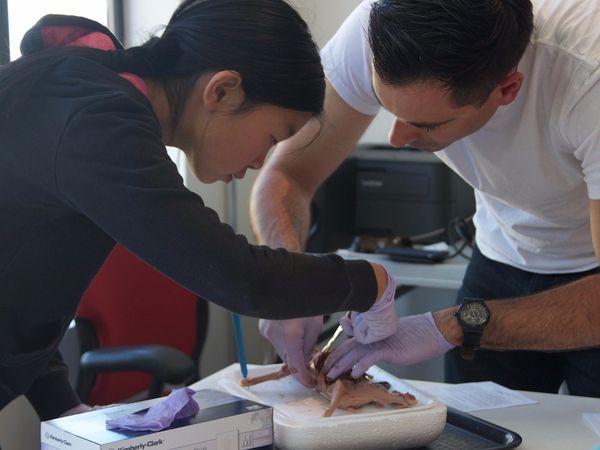 The parents present told me their children had particular interest in the medical field: one wanted to be a pediatrician like his grandmother, another wanted to be a scientist. One parent explained how hard it was to find a class like this to engage her son. She told me he wasn't challenged in public school; he was bright, he would ask questions public teachers didn't have the knowledge to answer, and then he would quickly lose interest.
"[Outschool] is a godsend. Even at the best private schools, you can't get a medical professional to come in and do a dissection. At the best private schools, the instructors are teachers first and foremost and they are taught to teach a subject. That's way different than a skilled professional in the field that knows how to teach children. Very different." Lisa, Sunnyvale
Though each parent I spoke with had different reasons for their child being an outschooler, each of them seemed determined to create the best curriculum for their child's unique learning style— and that Outschool was making their journey much easier.
See Outschool's upcoming classes here:
outschool.com/listings
Danielle is studying Interaction Design at the California College of the Arts.